On 1 January 2021, new post-Brexit border controls took effect, including the requirement of customs declarations, rules of origin checks, product safety certificates, and transportation paperwork for goods entering the EU from Great Britain. Do you have processes in place for complying with these formalities? Are your resources tasked with customs compliance familiar with the UK Border Operating Model? If not, your shipments risk waiting hours to cross the border, just to be turned away.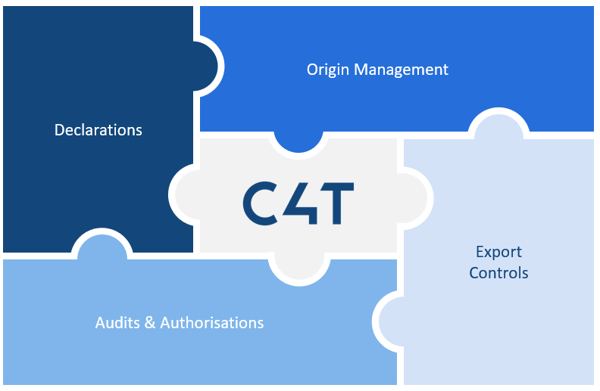 Managed Customs Services supports different aspects of the highly complex, time-critical domain of customs to ensure compliance and business continuity, improve service delivery and response times, and automate as many tasks as possible for greater efficiency and cost savings. We can help you adapt to Brexit, then go beyond compliance to optimise your trade lanes globally.
C4T's Managed Customs Services
C4T provides Managed Customs Services to support customs organisations while giving customs managers control and visibility into the totality of their operations. While this type of ownership and insight can be largely accomplished by implementing a customs compliance solution that automates tasks and provides information to address operational challenges, there are a number of important tasks that cannot be automated. These tasks must generally be managed by in-house customs teams, but sometimes companies don't have the resources or subject matter expertise to handle all of these requirements.
Customs4trade's Managed Customs Services help CAS customers and companies in the process of implementing CAS manage the complexities of customs and trade compliance with services that fall into a defined scope with clear-cut responsibilities and Service Level Agreements (SLAs). Managed Customs Services are an extension of our Standard Support, and address tasks including:
Declarations
Creating, submitting, amending, invalidating, and monitoring customs declarations in each country.
Handling errors and exceptions to guarantee business continuity.
Uploading shipment data.
Presenting requested electronic documents to customs authorities.
Ensuring declarations meet the legal requirements of the respective country's customs authorities, including tariffs, exchange rates, and code lists.
Extra hour coverage for extended or out-of-scope declarations.
Special Procedures
Maintaining legal administrative requirements.
Executing compliance cross checks.
Drafting, checking, and submitting required reporting to the customs authorities.
Periodic reporting checks.
Resolving inconsistencies related to stock records​.
Interaction with the control units of the customs authorities.
Assisting in special procedures audits.
Tariff Classification
Determining the correct commodity code for new and existing articles.
Keeping the classification codes for the existing group of goods for a given jurisdiction up to date.
Keeping an up-to-date decision tree.
Tariff Measures
Assigning possible tariff measures to items that have been classified.
Keeping tariff measures in line for items in each jurisdiction in the scope of declarations.
Assigning the required additional codes to items to ensure valid customs declarations.
Origin Management to help take advantage of the benefits of free trade agreements and optimise your trade lanes.
Export Controls for dual use classification.
Authorised Economic Operator (AEO) Certification that provides advantages including:
Fewer controls.
Reduced fees or waivers.
Easier access to simplified customs procedures and special procedures.
A trusted relationship with customs authorities.
Special Procedures Authorisations for:
Inward Processing Relief (IPR)
Outward Processing Relief (OPR)
Customs Warehousing
End Use
Temporary Storage
CAS Administration and Configuration
Support for logistics flows configuration and admin settings.
Resolving errors and exceptions for configured flows.
Updating decision tables in Special Procedures module.
Changing or updating Business Partner information.
User management.
Customs Operations Audits that identify opportunities to reduce duty and administration costs, detect errors and anomalies, and optimise and standardise operations based on what is working. These include:
controls and analytics.
operational KPIs.
performance KPIs.
financial KPIs.
With Managed Customs Services, you can decide which of these tasks (and more!) you would like to outsource and which you can deal with internally. Our team gives your customs professionals the support they need, whenever they need it, with unmatched expertise at a fraction of the cost of hiring in-house resources or collaborating with customs brokers. Contact us to enquire about how our Managed Customs Services can help you streamline your customs operations.