Laurent joined the C4T tribe in September of 2019 as a business analyst. Although he was born in Belgium, Laurent's father's work took his family to Budapest and Geneva, where he attended international schools, gaining fluency in Dutch, French, English, and Spanish along the way. He returned to Belgium for university, earning his degree in Economics at KU Leuven, which ranks in the top 50 universities worldwide.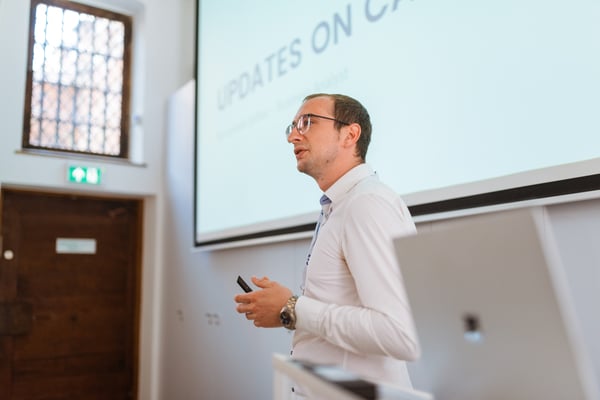 "I always wanted to become a consultant," shared Laurent. "I am driven by solving problems. I like to look at patterns and processes to learn and understand how things work and how to make them more efficient."
Laurent's first job out of university was as a junior consultant for KPMG, where he spent seven years in the energy sector, analysing IT systems and data models. While this experience gave him a solid background as a business analyst, he yearned for longer-term assignments where he could work as part of a team. When a recruiter contacted him about a career at C4T, Laurent was intrigued.
"From the very first contact with C4T leadership I was inspired both personally and professionally," said Laurent. "I like to learn. I like a challenge. This was an opportunity to tackle a new domain."
Laurent's first assignment was to work on incorporating declarations for French customs authorities into CAS. This required getting a big-picture view from C4T CEO Pieter Haesaert, communicating with clients to identify their needs, and serving as a bridge between sales, development, and service desk teams to make the requested features and functionality a reality. It also required gathering information from operators and customs officers in various regions of France to identify what kinds of systems CAS would need to integrate with—and lots of paperwork!
While Laurent continues to work on CAS integration with France, in the interim he was assigned to a project to connect CAS to Swiss customs systems. "There is a reason for the expression 'running like a Swiss watch.' I lived in Switzerland for five years and know that they are driven by precision, so that integration went a lot more quickly!"
"It's like solving a puzzle. From origin management to rethinking the CAS user interface to ensuring a fluid user experience, every day is different and I'm solving a different problem. I get to work with a clever team of people with lots of great ideas, which is part of the fun of my job. That, and I don't have to wear a suit to work anymore!"