Mehdi recently joined our tribe, moving from Spain to Belgium to further his career at C4T! He is Product Owner in the Vector squad, which is in charge of extending and improving integrations between CAS and the customs systems of various countries and systems providers.
Born in Morocco, Mehdi holds dual citizenship between Morocco and Spain. Growing up in Morocco, he attended a Spanish school, so it was a natural transition to go to Spain when it came time for university. He first studied Multimedia Engineering in Barcelona, moving to Madrid for his Master's degree in Virtual and Augmented Reality Systems.
Mehdi's career has been in software product ownership and project management, taking his first job out of college at a large-format LED screen provider (think screens you see in New York City or Tokyo) to package a hardware/software offering which gave customers full display management and interactive capabilities. Wanting to join a company whose core business was software, he then took a job in Salamanca as Product Owner for a virtual reality authoring tool that empowers industrial customers to create simulations for job-specific equipment and situations.
So does this mean CAS is going VR? Not yet. But as Mehdi shares, "In any form of software development, there are points in common that you use to compose successful products, working between development, user experience, user interface, and so on." While Mehdi enjoyed his foray into virtual reality, he wanted to join a scale-up company and had his eye on Belgium. "I had spent zero time in Belgium before moving here, but it is known as a very welcoming country. It has a lot of neighbours and I feel like it has taken the best habits from all of them. This was confirmed when I arrived and honestly it's exceeded my expectations."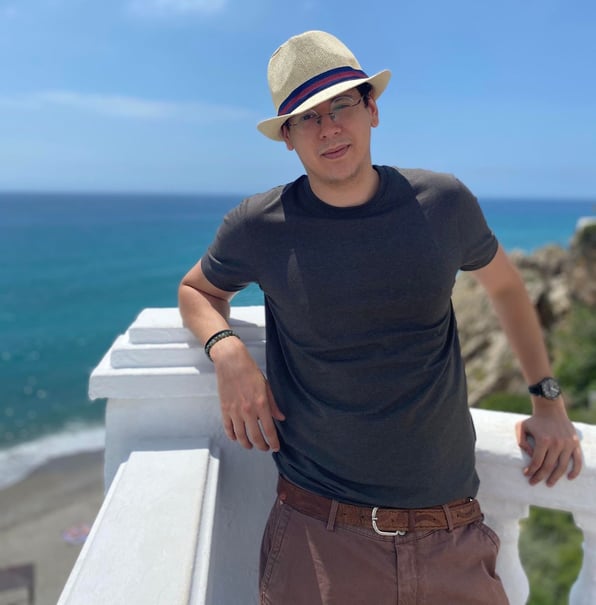 While Mehdi is a software development veteran, the world of customs is new to him. He is scaling up his domain knowledge and learning more on the job with documentation and analysis of customs systems in Ireland, France, and Poland. "Poland is up and coming but we are confident we will have them integrated in the near future. We are also exploring Spain and Italy. The goal is to conquer all the countries in the world!"
It's true—C4T's goal is to become the #1 Global Customs Solution provider—and with this aspiration, having a multilingual tribe is key. Especially in Mehdi's role where he explores and facilitates the integration of multiple countries' customs systems with CAS, his command of English, French, Spanish, Catalan, and Arabic are a real asset—and he is currently learning Dutch.
"C4T is a best-case scenario for me in a lot of ways but mainly I share the human values. They understand that the strength of a company is the people. The environment really makes you step up your game because there are high expectations, yet they make it so everything around you is motivating—the gardens, views, interior design—which supports giving your best."
"I feel like the growth is really going to snowball at C4T because the roadmap and goals are clear and feasible. I've only been here a couple of months and I already feel like we have made progress. It's a very dynamic environment. We have a lot to accomplish but the people are helpful and available, which is very important for newcomers. Especially if you don't come from the world of customs, you need help and they provide it."
What's next in the near term for Mehdi? Apart from continuing to expand CAS's reach, "I'm looking forward to the restrictions being lifted so I can spend more time at the office because I really prefer it to working at home. At home I don't have the views!"