On Wednesday, June 26, we hosted our C4T Connect event in Hof van Busleyden in Mechelen, a fitting location, as it is the building in which the patron of learning Hieronymus van Busleyden connected people in the early 16th century. In this building-turned-museum, scholars would exchange ideas and have fruitful discussions. We were proud to use this historical venue for our networking event where our customers and prospects had the chance to learn and connect with their peers.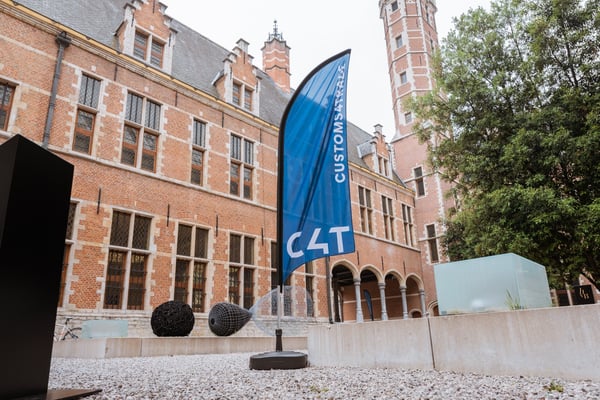 Inspired by the museum where visitors can look back at the city's glorious history and look ahead to the future, we did the same at C4T Connect. We reflected on our history, where we came from, and what we have built. But most importantly, we focused on what is yet to come. We addressed what is happening in the marketplace, how our CAS solution is evolving, and how we are integrating the newest features and technologies, such as machine learning and artificial intelligence, to revolutionize customs management.
Pieter Haesaert, our CEO, spoke about market trends that are making the international world of customs and trade more complex than ever, including the growth of global commerce, the increasing complexities of rules and agreements, and the changing political environment worldwide.
We were proud to have one of our customers, Nike, present their main customs activities, the challenges they encounter, and what they do to tackle these. The market leader shared some information on how they manage data and the crucial role reporting and analytics plays in the day-to-day activities of their customs managers.
Data data data
At C4T, we have a laser-like focus on data, since it is ubiquitous and absolutely key to generating the insights and perspective you need to improve your business. The ability to centralise information, structure large volumes of raw data, generate valuable reports, and share it all with other stakeholders is what differentiates us.
Our dashboards translate raw data into relevant insights about certain metrics, such as the number of declarations with customs errors, the total amount of duties paid, or the throughput time of a declaration from its entry into CAS to its being released. Since sharing is caring, CAS spreads the customs data to other systems, enabling them to use the verified data for different purposes.
The next generation in innovation
With our machine learning prototype, we are using the data in CAS to recognize patterns and predict outcomes, allowing the system to make intelligent decisions. The more data you enter into CAS, the smarter it gets, giving it the ability to detect anomalies and flag errors before they turn into costly mistakes.
Now that we have all Brexit preparations in place, our focus for the next couple of months is to connect with the customs systems of other countries and build out our origin management module in CAS. More insights, advanced reporting, and prognostics will be added, enabling our users to perform their jobs faster and more efficiently.
Let us know if you would like to receive more information on the C4T Connect presentation. We would be happy to share this with you.
Hoping we will see you at one of our upcoming #C4TConnect events or webinars.
Stay tuned by following us on LinkedIn, Twitter, Instagram and Facebook, or bookmark the C4T Inspire blog.