The roadmap items mentioned in this blog post can be subject to change.
The ringing in of the new year brings hopes, dreams, and lots of exciting new CAS functionality. Is your New Year's resolution to automate your customs formalities so you can rest assured your international trade is proceeding effortless? Then we have great news for you!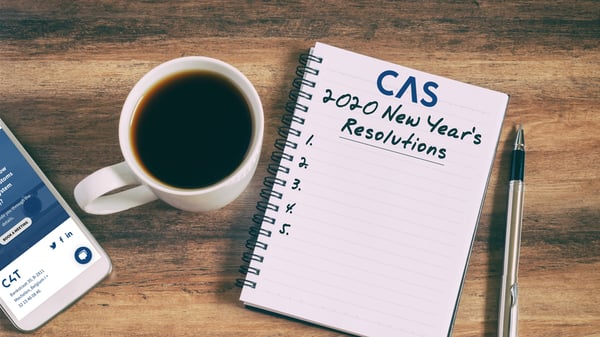 As we detailed in our anniversary blog post, we are proud of our journey over the past 15 years, and our story is far from finished. As we reflect on 2019 and look forward to the year to come, here are our top focus areas and associated goals for 2020.
1. Our Special Procedures module, which is already being used extensively by several customers, will be extended to serve a wider variety of use cases. Our Bonded Warehouse (CWH), Inward Processing (IP), and Outward Processing (OP) flows will become more elaborate, fulfilling all possible business needs.
2. CAS went live in the UK, Belgium, and the Netherlands in 2017, and since then we have substantially extended functionality for these three countries. At the end of 2019, we proudly announced that CAS now integrates with the French customs system. We are currently working hard on the integration with Switzerland (eDec) and further integration with EU countries, including Italy and Germany, is on the agenda.
3. As data is absolutely key to generating the insights and perspective you need to improve your business, we have dedicated time and resources to ensure you can gather the data you need and share it with business partners and third parties alike. This will remain a priority for 2020, and we will focus on:
· Extending our Machine Learning functionalities to improve the customs declarations process, reducing human error, detecting significant differences in values, and suggesting better classification codes to reduce costs.
· Continued data integration with third parties, such as customs brokers and ports.
· Quick and efficient onboarding with APIs that allow for fast and simple integration with your ERP or WMS. These APIs will be improved to ensure integrating with CAS is as effortless as possible.
4. To serve our customers better in the future, our Consultancy and Services teams will become one Customer Success team, with our Product team working with them closely to improve user experience. We aim to make the customer onboarding process as short as possible and allow customers to onboard to CAS in a matter of hours. Our fast onboarding flow, including self-configurable decision tables for customs-specific and other data, is facilitating this goal. We know that lodging a customs declaration, with or without Special Procedures, requires a lot of data. We have already made sure that you only need to provide the necessary data, no more and no lessUsing CAS allows you to configure all customs logic within the system, meaning you only need to transfer a limited set of logistics and financial data.
Our customs experts are closely following every legal update that pops up and updating it in CAS. We continue to work on Brexit enablement, the switch from CHIEF to CDS in the UK, the evolution from AGS to DMS, the Dutch customs system, and follow up the changes in Belgium for the monthly periodic declarations. As you can see, the future looks bright for us, and CAS will have extended enormously by the end of 2020. Want to see what CAS can offer you now? Watch our demo video.
Together, we go beyond compliance.