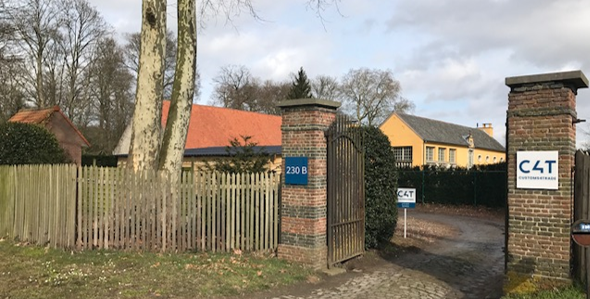 It's not everyday that a tech company finds itself working right in the middle of nature. When C4T was scouting out a new office building, we saw it as an opportunity to lead by example when it came to work life innovation as well as providing innovative customs compliance technology. In an industry where people are finding it more and more difficult to escape the everyday grind of their work life, going back to nature felt like a smart step to take to support our hardworking team. At our new office on the grounds of Relegem in Zemst, Belgium, the sunlight, the breeze and the ancient oak trees are also a part of our work family.
New office with a soul wanted
Finding this new space was quite serendipitous. After Ilse Vermeersch, C4T Co-founder, had been scouting around the area of our current office, she noticed quite a few historic sites in the area, which gave her inspiration for an new workplace. After inquiring in the local village if any of them may be open to renters she finally heard back about an interested party at Relegem. The heritage was originally built in the 1600's and underwent a renovation into a more Classic French style in the 18th century. An authentic barn accompanies the whole setting together with a separate building that has been refurbished. When Ilse went to inquire about the barn, the owner encouraged her to consider the separate house instead, and as soon as she saw it, she was sold! The old house had everything she was hoping for: character, authenticity, an incredible natural setting, and Wi-Fi.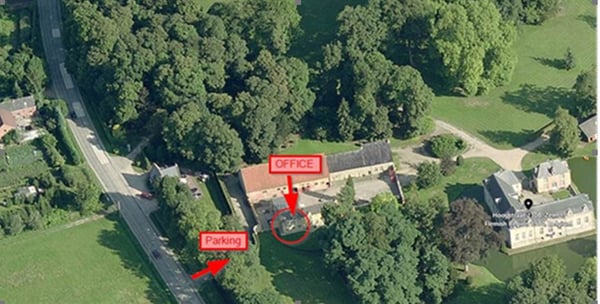 -Setting of the office on the Relegem Estate.
Leading by example
And according to our team, the location is really making a difference. Maria Almeida Aranha, Manager, says, "I can't believe how much more relaxed everyone seems here. We have the windows open, the sounds of the birds flowing in, and a terrace to sit on when we take a break. I am proud of the company for taking this step. I like that innovation starts internally with us."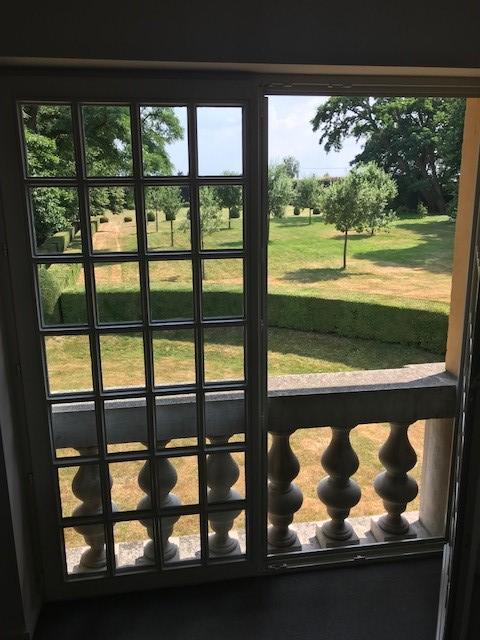 -View from one of the windows at the new office location.
Yes, we are green!
Taking this location as our new office means a lot of things to us. Bringing a business into a natural space also means taking responsibility for our imprint on the area. For this reason, we decided to go fully paperless on the property without a printer in sight. We are also working hard on reducing the amount of plastic we're consuming in the office and it's all been a relatively easy shift that inspires us to keep doing more. It also feels good to invest in the local area and existing infrastructure as we plan to renovate the barn on the property as well to hold the entire C4T team in the coming months.
The office location at Relegem also offers plenty of space to practice our corporate running program and we hope to introduce some yoga and mindfulness sessions soon. For us, our team state of mind is very important and this location couldn't be more perfect. As a company always trying to reinvent itself, as we also try to reinvent customs practices, we find our new office to be a great representation of us. Authentic yet innovative, expanding while conscious at the same time.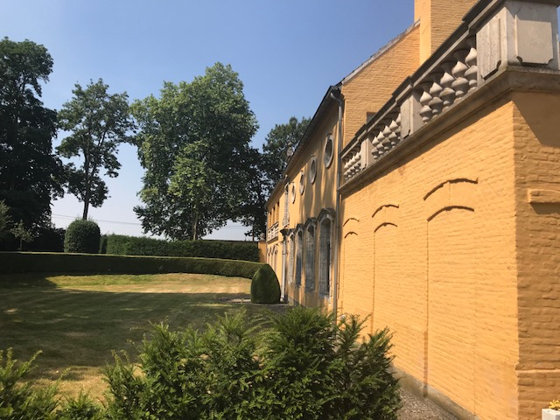 C4T is always looking for new talents. Do you have innovation in your DNA? Are you a team player eager to join our vibrating tech team? Join us!