On a mission to become the #1 global customs solution
In the past couple of years, we were fortunate to experience incredible growth as a company. From that, we learned that with great growth comes the need for efficient knowledge transfer. That is how the need for a Learning & Development (L&D) division became a company objective.
Under the leadership of L&D Director Wim Verbeeck and Chief People Officer Ilse Vermeersch, the Learning & Development division will create a sustainable culture of professional development within C4T. Following Simon Sinek's philosophy "Happy employees ensure happy customers. And happy customers ensure happy shareholders – in that order", our L&D vision is to:
guide employees throughout their tenure at C4T and enable them to grow both professionally and personally,

develop our tribe's capabilities, skills, and competences in order to remain successful and support our common organisational goal: becoming the #1 global customs solution,

guide customers to get the full benefit out of CAS,

create enthusiasm for CAS among prospects with comprehensive showcase material and live demos.

While L&D is a new addition to the C4T organisational structure, it is a quintessential part of the tribe, connecting with all internal divisions. From the start, Wim's mantra has been that the L&D division is not an island; it interacts and collaborates with all parts of C4T, making the culture of continuous professional development a company-wide responsibility. Involving and making the other divisions accountable for their learning also comes from Confucius' philosophy "Tell me and I forget, teach me and I remember, involve me and I learn".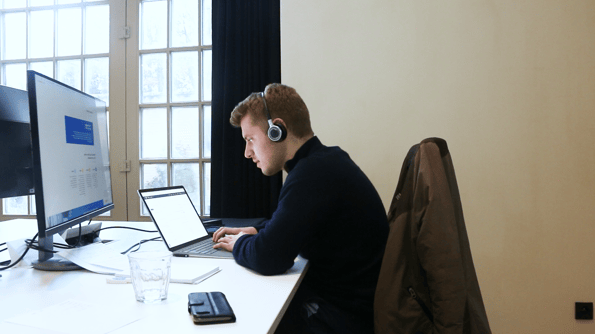 Currently, the L&D division's core focuses are on:
smooth onboarding of new customers and employees,

structuring and centralising the L&D processes,

implementing a new tool that will facilitate continuous professional development, in line with C4T's digital-first philosophy.
From an employee perspective, the L&D division will lead to a lighter workload for Onboarding, fewer Customer Support tickets, a better company-wide understanding of CAS and customs, and a greater opportunity for employees to self-identify and pursue interests to further their careers. That translates to happy employees.
From a customer perspective, the new L&D division aligns with C4T's brand promise: to go beyond compliance. This includes making sure our customers have the required knowledge and skills to get the full benefit out of all C4T-provided tools. That translates to happy customers.
#WeAreInThisTogether