In its 2020 article "The Future of Platforms", MIT Sloan Management Review highlighted the staggering success of digital platforms, reporting "The world's most valuable public companies and its first trillion-dollar businesses are built on digital platforms that bring together two or more market actors and grow through network effects." And according to Gartner research, more mature supply chain organisations have moved away from heterogenous portfolios of individual applications from different vendors with different architectures, data models, and user interfaces.1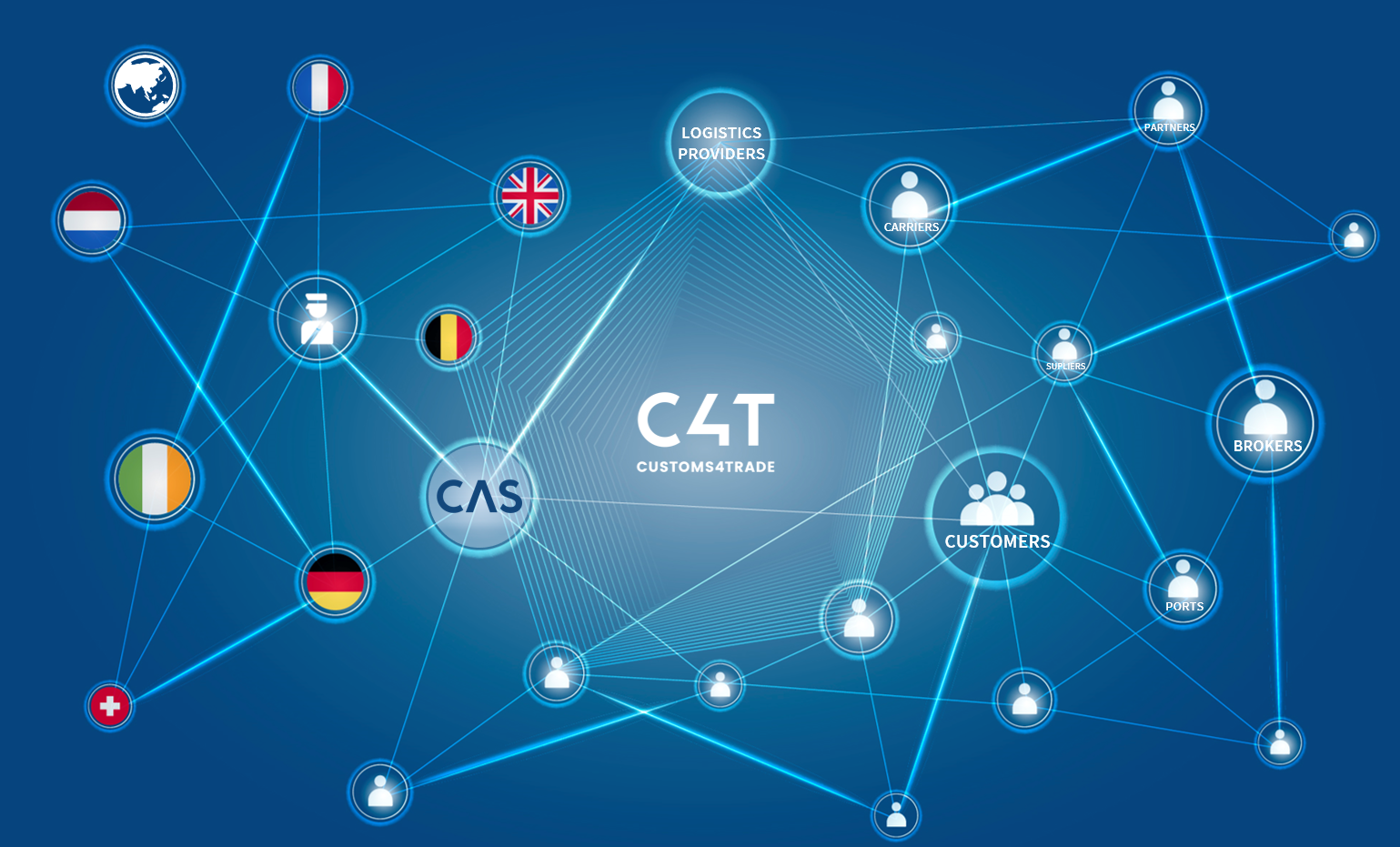 At C4T, we've taken a platform thinking approach to our software development, considering all stakeholders in the customs process while future-proofing our solution. CAS is a single, centralised platform delivered as a service that can be used by commercial organisations, logistics providers, customs brokers—essentially anyone involved in the customs process—to simplify and streamline customs compliance.
Platform vs. Portfolio: the Pros and Cons
Connected platforms have been trending since the mid-2000s but what makes us so sure they're here to stay? First, let's define platform vs. portfolio so we're all on the same page:
Platform: interoperable products that are built on top of a shared, interconnected foundation, i.e., the platform.
Portfolio: a collection of products from a single software vendor designed for specific functions; typically at least partially compatible with their other portfolio products.
The upside of portfolio products is that each one can offer you a best-in-class solution for the job to be done. Additionally, time to market for enhanced functionality is often faster, since it will be prioritised based on the specific purpose that individual product serves instead of having to weigh which features and functionality will most benefit an entire platform. With portfolio products, however, you can find yourself boxed into a corner. They are typically designed to integrate with each other, at least for some purposes, however interoperability with systems outside the portfolio is not generally the software provider's focus. Therefore, with each integration comes a bit of a disconnect, until you have a patchwork system that requires a whole lot of maintenance, not to mention extensive user training. This can lead to a higher total cost of ownership.
Platforms, on the other hand, are much more open, and therefore infinitely more agile. They provide for easy integration with third party products, avoiding time-consuming roadblocks in the event of business changes like mergers or acquisitions. In addition, platforms are designed using a common look and feel throughout, delivering a more fluid user experience and shrinking the learning curve needed as additional modules or functionality are introduced. There are fewer redundancies as well, both in terms of functionality and technical instrumentation, plus platforms are typically built using a single data model, simplifying data management. The key consideration with a platform, however, is whether you plan to commit to it for the long term. As the platform grows and becomes more and more connected to third-party systems, it becomes harder to make the move from a platform to a different solution without completely dismantling your operations.
Once you have verified that the core functionality of a platform serves your purposes and have validated that it connects with the systems you need it to, with the capability to add more in the future, the platform is usually the better choice. Let's face it, the fewer challenges your customers stand to experience, the greater your customer success. As economic ecosystems continue to expand, those that offer the most simple and seamless customer experience will be the ones that rise to the top to lead the market. This is particularly applicable within the customs domain, where so many parties must collaborate in different phases of the supply chain. That means keeping operations running smoothly —something that's nearly impossible when each stakeholder is using different software that lacks integration and interoperability.
A platform serving the entire supply chain journey
CAS is a single, centralised platform that enables data sharing between commercial organisations, logistics partners, customs brokers, customs authorities, port community systems, and other third parties involved in international trade. It is built on the trusted backbone of Microsoft Azure and connects with ERP systems and WMSs as well as systems used by customs authorities in various countries. Business partners can subscribe to the platform and share declaration and logistics information, making CAS the only communication platform needed between parties. From import/export/transit MRNs to booking references, status information, and more, CAS gives stakeholders a precise view of the information they need access to depending on their role in the supply chain.
Today, the CAS platform offers modules for Declarations, Special Procedures, Master Data, Origin Management, and Insights. In the future, our extendable platform allows for the addition of multiple apps, for example one that allows the truck driver access to an electronic set of declarations, certificates, and transport documents. The possibilities are endless.
Streamlining logistics
For most companies, once a trader transfers its goods to the logistics provider, there is a blind spot. CAS connects with both parties' systems, giving traders and carriers the visibility and administrative capabilities they need to keep trade flowing. For example, the trader can initiate the export declaration in CAS and the carrier will be automatically notified if they need to supply further information, e.g., transport booking information and status. With CAS as the centralised hub for customs and logistics administration, trade can be managed from any location with an internet connection, via a single, multi-language platform that uses one global data model.
Are you ready to reduce the complexity of customs and trade with a platform that integrates with your existing systems? Contact us today for a demo.
1 Christian Titze, Dwight Klappich, Navigating Through the Ever-Increasing Complexity of Application Architecture, (Gartner Supply Chain Brief 2021), p 2-3