In partnership with PwC and Google, Trends identified digital pioneers of 2019—companies and organisations that have developed an innovative digital project that impacts not only the business, but the community as a whole. Customs4trade (C4T) was nominated as a Trends Digital Pioneer for our zero-touch customs compliance software, CAS, and was very proud to be one of the finalists!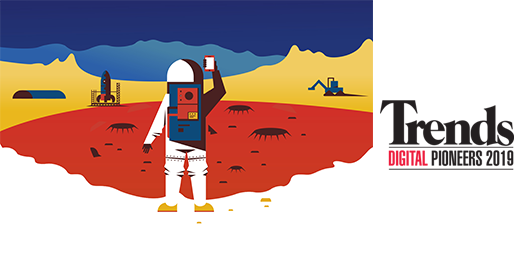 Trends Digital Pioneers were nominated in three categories: start-ups/small businesses (<15 employees), medium-sized companies (>15 and <300 employees), and large enterprises (>300 employees). A jury then selected seven finalists for each category, taking into account five criteria:
Digital pioneer and 100% digital Is the transformation due to a purely digital development?
Digital pioneer and innovative Does the project generate creative disruption, replacing an existing model with a digital renewal?
Digital pioneer and user friendly How does the product distinguish itself in terms of user friendliness and what makes it unique?
Digital pioneer and applicable in other domains Can the digital project be applied and copied in other departments, sectors, and companies?
Digital pioneer with proven results and benefits Can the project provide proof of calculated returns, improved efficiency and effectiveness, and new market opportunities?
Based on these criteria, PwC, Google, and Trends evaluated companies at the Night of the Trends Digital Pioneers in Brussels on November 28, 2019, where representatives of the C4T team presented our digital solution in the Pioneers Village.
CAS: Digital pioneer and 100% digital
Our transformative digital solution is CAS, a collaborative hub built on the Microsoft Azure platform and delivered as a service (SaaS).
CAS: Digital pioneer and innovative
C4T wants to eliminate the tedious paper processes related to customs and empower customs experts to become strategic contributors to their organisations. To that end, CAS was designed to manage regional and worldwide customs and trade compliance quickly and accurately, within one single digital platform. Our fully automated solution provides clients with continual updates and feature enhancements, including the incorporation of any changes to legislation and compliance regulation.
The CAS Insights module, our Visibility & Analytics tool, presents information in easy-to-read dashboards and reports and allows sharing data with third parties. We built our solution to make sure users can easily retrieve insights from their valuable data and move the needle on business growth.
With our machine learning prototype, CAS is able to recognize patterns and predict outcomes, allowing the system to make intelligent decisions. The more data you enter into CAS, the smarter it gets, giving it the ability to detect anomalies and flag errors before they turn into costly mistakes.
CAS: Digital pioneer and user friendly
CAS' intuitive user interface was built by dedicated UX specialists working in tandem with C4T customs experts and beta tested by customs managers. It is self-configurable using different decision tables that allow for modification of different customs value parameters and other valuable data in a fast and straightforward way. This is something that distinguishes our solution from competitors', who are mainly IT-driven and have not fully developed their solution with the customs expert in mind.
Our fast onboarding functionality allows clients to get started with customs automation and be up and running within days, without the need for IT support.
Digital pioneer and applicable in other domains
CAS is currently available in Belgium, UK, and the Netherlands, and we have recently integrated with French customs as well. Further integration with EU countries is on the agenda and the ambition to extend our solution globally remains an important milestone.
In the last couple of months, Customs4trade has entered into partnerships with several strategic partners. Microsoft is supporting us by co-selling, establishing contacts with other partners, and supporting marketing and advertising activities, and yesterday, C4T was one of the speakers at Microsoft's Envision for Manufacturing event.
Together with ICC (International Chamber of Commerce) Belgium, C4T is organising the Customs Professional Award 2020, which provides public recognition to customs experts who go above and beyond the call of duty, applying their customs expertise on a daily basis to support their company's growth in the field of international trade.
C4T proudly signed a partnership agreement with WCO Academy, committing to the distribution of valuable WCO news via our Inspire blog and social channels.
And last but certainly not least, our SaaS solution CAS was recognized by Gartner as a valuable option in the global trade management domain and was published in Gartner's "Market Guide for Global Trade Management Software" on July, 10, 2019.
Digital pioneer with proven results and benefits
By automating all import and export processes, C4T clients experience faster time to market, reduce customs duty and administration costs, and gain strategic visibility into their customs operations. CAS helps organisations save time and money throughout the customs process—but don't take our word for it. Learn about the benefits first-hand from our customers.
And the winners are…
We were honoured to be a finalist and would like to congratulate the winners of this year's Trends Digital Pioneers edition:
start-ups/small businesses (<15 employees): Allthingsblue
medium-sized companies (>15 and <300 employees): AVR
large enterprises (>300 employees): Belfius Insurance
Discover how CAS can make your business grow to become a digital pioneer as well.