How it works
C4T's CAS Declarations Module enables you to automate multiple declaration types in multiple countries, supporting import, export, and transit declarations.
At C4T, we have a laser-like focus on data, since it is ubiquitous and absolutely key to generating the insights and perspective you need to improve your business. The ability to centralise information, structure large volumes of raw data, generate valuable reports, and share it all with other stakeholders is what differentiates us.
Our dashboards translate raw data into relevant insights about certain metrics, such as the number of declarations with customs errors, the total amount of duties paid, or the throughput time of a declaration from its entry into CAS to its being released.
To bridge the gap between article-based logistics systems and declaration-based customs procedures, CAS uses the concept of a Customs Shipment. A Customs Shipment is a shipment which needs to be cleared for unloading or departure at a certain location. The creation of a Customs Shipment is triggered upon ingestion of a determined message type into CAS. There can be a variety of message types such as an ASN, PO, SO, invoice, factory complete message, an Excel upload in the CAS User Interface, or a similar message sent out by the client's system.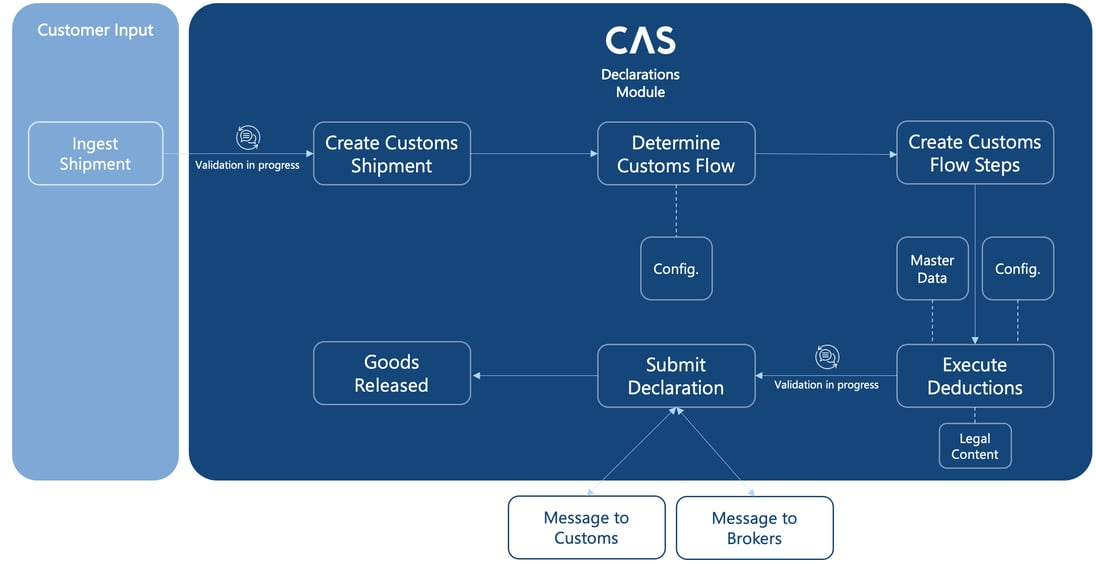 Once the shipment is established, the process begins by sending lightweight Customs Shipment data on any inbound or outbound shipments to CAS, which integrates seamlessly with your ERP or WMS. This data submission triggers a rule which then auto-selects the appropriate Customs Flow. Customs Flows include different declaration steps and deliver the requisite data to customs, Port Community Systems, and business partners. Each Customs Flow is configurable and can aggregate data according to its needs, including master data, valuation, tariff measures, and any other default data or manually entered data necessary for compliance.
The CAS Declarations Module files the import- or export declaration taking care of the customs formalities, shares information with business partners, automatically resubmits data if needed, and provides exit confirmation—all with little to no human intervention. Multiple user profiles including Declarant, Warehouse Operator, Customs Manager, and Customs Broker provide different roles with exactly the information they need to see via the role-based dashboard.
Main Features