The dates in this blog post might be outdated. For the most up-to-date information, please consult our UK landing page.
With less than 90 days before Brexit, experts have expressed serious doubts that the UK government, UK businesses, and hauliers will be ready to complete the required customs formalities by the January 1, 2021 deadline. On September 23, the UK Cabinet Office issued a paper entitled: "Reasonable Worst-Case Scenario for borders at the end of the transition period on 31 December 2020" that raises genuine concerns about preparations and a high likelihood that UK importers and exporters will experience a detrimental impact.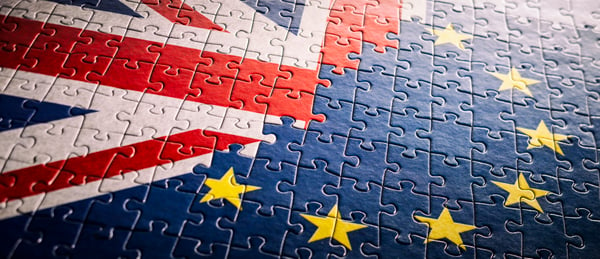 40-70% Will Not Be Prepared
The document states that 40-70% of trucks travelling from the UK to the EU might not be ready for new border controls executed by both UK and French customs. Many trucks are expected to present themselves at the port without having pre-lodged the necessary customs declarations or with missing supporting documentation. If this is the case, the trucks will be refused exit from the UK and entry to France, leaving goods stranded at the border.
Queues in the Thousands
It is estimated that queues up to 7000 trucks long could clog up roads around the Dover/Folkstone terminals, causing delays of up to two days on average and impeding inbound shipments to the UK.
Experts Agree That the Infrastructure is Not Ready
Hauliers have expressed concern about these delays, and their worries have been confirmed by experts.
Cabinet Office Minister Michael Gove conceded that 7000-truck-long delays were a possibility in a letter to the freight industry, and in the last week of September he acknowledged to BBC News that a disruption of flows in the first months of 2021 is likely and that some IT and physical infrastructure at the UK border may not be fully operational yet. He referred to the new infrastructure at the entry of Kent county where drivers will need to present a badge at the checkpoint to proceed to the Dover/Folkstone ports.
In another interview, the chairman of the British transport companies declared that the new freight management system for exports would not be ready by the January 1, 2021 deadline. This system will have to be used for the pre-lodging of UK export declarations, which is required for trucks to leave the UK.
And just last week, the British Chamber of Commerce estimated that only half of UK firms have considered the impact of Brexit on their business and said only 52% have carried out a risk assessment.
There is Still a Chance to Prepare—and Grant Funding to Do It
We know that Brexit is pressuring businesses to the extreme and with every hour passing preparation time is lost. Don't waste any more time. Customs4trade can help you minimise delays with CAS, our automated software solution that integrates with customs authorities' systems to file declarations. What's more, the UK's Customs Grant Scheme will pay for onboarding, employee training, and your first year of licensing.
For existing CAS customers, these requirements have all been taken into account and we'll make sure everything is arranged for you on Brexit day. In case of questions, don't hesitate to contact your C4T contact person to discuss further.