By Ilse Vermeersch, COO
Numbers and graphics were updated October, 2021.
How did we build a diverse team at Customs4trade? For us, it happened organically. We knew intuitively that building a diverse team was essential. Seven years ago, C4T's team consisted of five Belgians and all of our documentation—client data, contracts, and employment-related documents —was written in Flemish. For a company with a vision to transform customs and trade worldwide, that sure limited our future! We realised a lot would need to change if we were going to accomplish our goals.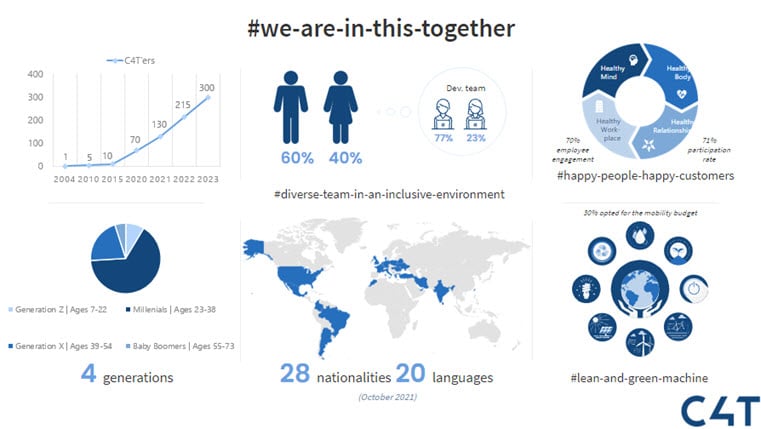 We hired our first non-Belgian team member, a talented female customs expert with experience and the right skill set. It did not take us long to recognise that she brought something else to the table: a fresh and alternative perspective. We began speaking English in-office and during breaks. It took a while before all documents got translated, but we did it. And we committed to equal opportunity and an inclusive environment that welcomes and values differences.
Today, we have 125 C4Ters representing 28 different nationalities from five continents. Our team spans four generations and is 60% male / 40% female. This diversity in personalities, experience, and cross-cultural competencies has given the C4T team a unique perspective that has helped us expand more rapidly and better meet our customers' needs.
Elke Jeurissen's Diversity Deep Dive
As part of my ongoing commitment to workplace diversity and inclusion, I recently attended Elke Jeurissen's Diversity Deep Dive workshop. I was happy to learn that we have been doing a lot of the right things, for example exercising diverse recruiting, creating a culture that supports work/life balance, providing coaching to team leads to make promoting from within possible, and sharing points of view on diversity and inclusion through channels like our blog and social media. I also learned that we have only just begun our journey. Much like our C4T journey, it all starts with the first steps, like taking a good look inward to understand where we are and facing the facts of where we have fallen short. The next step is to acknowledge this and draft a plan to improve. Elke's Diversity Deep Dive provided a roadmap to make that a reality.
The knowledge Elke shared on diversity and inclusive leadership was not only inspirational and educational, it is actionable. I recommend the Diversity Deep Dive no matter where you are on the diversity and inclusiveness continuum. Whether you are just beginning your cultural shift or feel you have truly indoctrinated diversity into your team and workplace, Elke gives you valuable insights and concrete tactics and strategies that will reinforce diversity and inclusion for the long term.
Here are the immediate steps we are taking:
Evaluating and re-evaluating C4T's team in terms of

gender, age, nationality, personality, and level of leadership to ensure we remain true to our pledge of diversity and inclusion.

Continuing to communicate our commitment to diversity and inclusion, both internally and externally.

Formally drafting and evaluating our hiring and promotion practices to ensure we attract and retain diverse talent, provide growth paths, and empower employees to develop their full potential.

Engage

stakeholders in diversity and inclusion and develop a framework for accountability.