By Laurent Delbar, Business Analyst
Customs4trade turned 15 this year and over the course of our time in business we have undergone a profound transformation. C4T has moved from a consultancy, helping clients navigate the unknown seas of customs, to an IT firm, enabling clients to take control of the ship. We have also put energy, effort, and enthusiasm toward another transformation. We have become a Lean Green Machine, taking the environment into account with everything we do.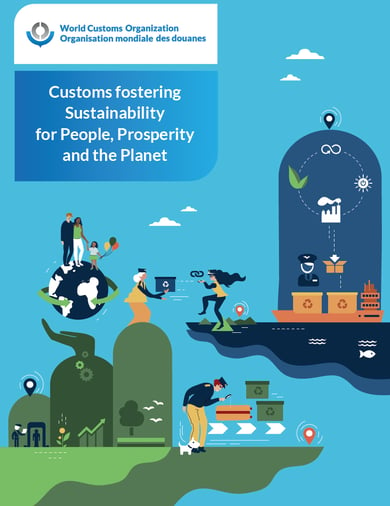 Paperless Office
Going digital is something C4T takes seriously. We discourage printing documents unless it is absolutely necessary—in fact, our office doesn't even have a printer. This goes hand-in-hand with our product development. With agile development, documentation evolves constantly, making printed documentation obsolete very quickly. At C4T, we store documentation in a centralised hub in Confluence and Jira, collaboration software developed by Atlassian that allows for bug tracking, agile project management, and business analysis. Staying paperless helps us deliver rapidly and cooperate with the development team using Jira. Trouble tickets are discussed, clarified, corrected if needed, and documented in Confluence. Keeping documentation in digital form leaves it open to evolution and nothing is set in ink!
Our office management team also contributes to our paperless office by providing a digital way to sign and receive documents for HR purposes. Even our clients sign most documents digitally, minimizing the paper use at C4T as a whole. All of the previously mentioned documents are accessible to all partners at any given time, ensuring transparency and openness.
Green Fleet
Half of our company cars are either electric or hybrid models. This is not something the company dictates—employees have a choice—yet it goes to show that we embrace our green culture. While hybrid or electric options are not available across the board, this is changing and C4T is set to lead by example. We encourage electric or hybrid models when possible and have outfitted the office parking lot with charging ports and equipped our employees with charging cards to ensure they can charge their cars at any public charging station just by swiping.
My Electric Journey
Being the second owner of a fully electric BMW i3, I can now attest that electric cars are the way of the future. This quirky-looking BMW is by far the most enjoyable car I have had the pleasure of driving. As a daily commuter, I can hardly imagine going back to a combustion engine after driving this marvel of technology. The absence of a combustion engine and gears makes accelerating a smooth, nearly silent experience, accompanied only by a delightful spaceship-like sound. With regenerative braking, I use the brake pedal 80% less—which also makes me think ahead and drive more carefully. Overall, my journey is much more enjoyable and relaxed.
Sustainability: The WCO Goal for 2020
Coincidentally, the slogan the World Customs Organisation (WCO) formulated for this year's International Customs Day is "Customs fostering Sustainability for People, Prosperity, and the Planet." The Customs community will be focusing on contributing towards a sustainable future where social, economic, health, and environmental needs are at the heart of its actions. These various dimensions of sustainability underpin Customs' contribution to achieving the Sustainable Development Goals (SDGs) outlined in the United Nations' 2030 Agenda for Sustainable Development.
We are proud to be a part of a community that takes serving the people, ensuring prosperity, and protecting the planet to heart in its intentions and actions.
Want to know more about what we value at C4T? Discover our story or read our Inspire blog.