A call for applications is open to customs experts in Belgium from now until October 15, 2019 to bring their achievements and those of their colleagues into the public eye.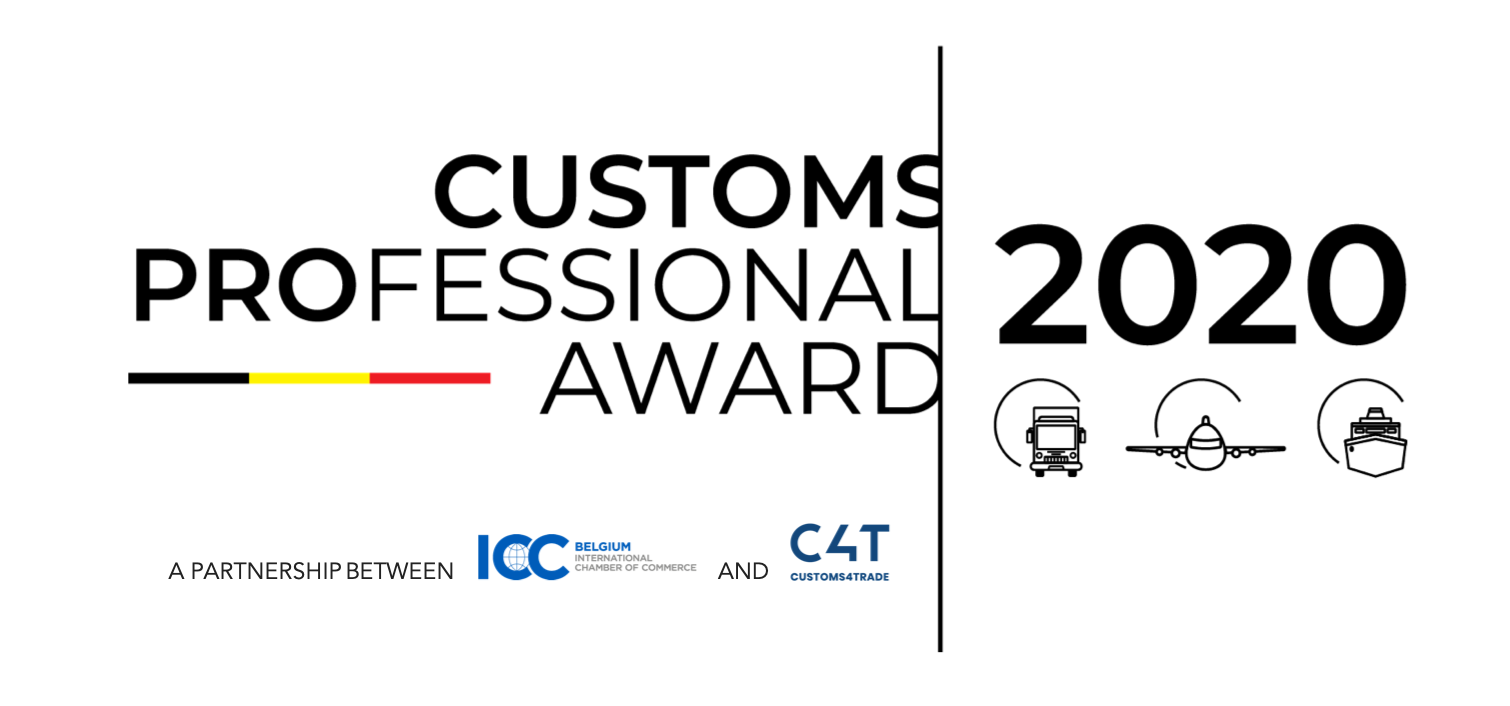 The International Chamber of Commerce in Belgium (ICC Belgium) organises the Customs Professional Award Ceremony together with Customs4trade (C4T), creators of a comprehensive customs and trade compliance platform.
The event will provide public recognition to customs experts who go above and beyond the call of duty, applying their customs expertise on a daily basis to support their company's growth in the field of international trade. Candidates are those who distinguish themselves either through exceptional achievements or innovation.
Customs experts are invited and encouraged to nominate themselves or a colleague for the 2020 Customs Professional Award via the online application at www.customsproaward.com until October 15, 2019.
Criteria for nominees include:
Working in Belgium in a role that is directly related to customs or trade compliance
Demonstrating an exceptional project and/or remarkable track record
A passion for customs and trade compliance
A vision for and/or implementation of innovation in the field
Peers are then invited to vote for the nominees from November 15-December 31, 2019. The jury, consisting of members of the National Forum for Customs in Belgium, will be presided by Frank Janssens, international expert and former Head of Unit Customs processes and data management and former Acting Head of Unit Customs Legislation at the European Commission.
The winner of the Customs Professional Award will receive a Eur 500,- travel cheque that can be used for any preferred holiday, as well as a package of 17 e-learning courses offered by WCO (World Customs Organisation) Academy on relevant topics that include the Harmonized System, Customs Valuation, the WCO Data Model, Rules of Origin, the WTO Trade Facilitation Agreement (TFA), and SAFE AEO, worth Eur 7600,-.
"This award honours the person that deals with the daily customs business with the motto 'non desistas non exieris' (never give up)," explained Kristian Vanderwaeren, Administrator-General, General Administration of Customs and Excise, FPS Finances.
Results will be announced at the award ceremony to be held on Thursday, January 23, 2020, from 16:00-20:00 at Microsoft 1K Zaventem Airport. The ceremony will be followed by an International Customs Day event on Friday, January 24, 2020, from 10:20-12:00 at the Brussels Town Hall, organised by the Belgian Customs Authorities in collaboration with the World Customs Organisation (WCO). At both events, customs professionals will have the opportunity to meet the best in the business and share thoughts and insights into the future of customs compliance. Events are free and open to all customs specialists with advance registration at www.customsproaward.com.
Global Commerce Entails Enormous Complexities
"The world of customs has never been more complicated, with ever-growing global trade, increasingly complex agreements, and changes to the political environment driving more and more regulations," said Pieter Haesaert, CEO of Customs4trade. "This award brings much-deserved recognition to these people who work tirelessly behind the scenes to further the growth of their organisations."
Bringing Customs and Trade to the Forefront
"Brexit and tariff wars have catapulted the topic of customs compliance to the world stage, however for decades customs managers have played a pivotal role in building our global economy," said Mathieu Maes, Secretary General of ICC Belgium. "This event is made possible by partner organisations and government bodies that are at the helm of global commerce. These include Customs4trade, sponsors KPMG and Microsoft, and the support of the Belgian General Administration of Customs and Excise Duties, the Federation of Belgian Chambers of Commerce, and the Federation of Enterprises in Belgium."
About Customs4trade
Customs4trade's (C4T) unique team of customs experts and best-of-breed technology engineers has developed CAS, a one-of-a-kind software solution that automates customs and trade compliance.
CAS is a collaborative hub, built on the Microsoft Azure platform and delivered as a Service (SaaS). It is designed to manage regional and worldwide customs and trade compliance quickly and accurately, within one single platform. By automating all import and export processes, C4T clients experience faster time to market, reduce customs duty and administration costs, and gain strategic visibility into their customs operations. CAS provides clients with continual updates and feature enhancements, including the incorporation of any changes to legislation and compliance regulation.
About ICC Belgium
ICC Belgium is the Belgian office of the world's largest business organisation, representing over 6 million members in Belgium and more than 100 countries. Since 1920, ICC Belgium has been dedicated to strengthening commercial ties among nations to promote higher global living standards and peaceful relationships between countries.
ICC's core mission is to make business work for everyone, every day, everywhere. Through a unique mix of advocacy, solutions, and standard-setting, ICC promotes international trade, responsible business conduct, and a global approach to regulation, in addition to providing market-leading dispute resolution services. ICC members include many of the world's leading companies, subject matter experts, business associations, and local chambers of commerce. Most exporters know ICC from the Incoterms® rules, the ATA Carnet, the training initiatives, and commercial arbitration.
For more information, please contact the Secretary General of ICC Belgium Mathieu Maes at mathieu.maes@iccwbo.be, +32 2 515 08 44 or Project Officer Julie Deré at julie.dere@iccwbo.be, +32 2 515 09 33, or visit their website at www.iccwbo.be.