Thomas More University of Applied Science has organised a series of Evening Talks over the course of the academic year to get alumni to inspire current students by sharing their carrier paths and experience in the professional world after graduation. Topics range from economics to finance, science to IT. The subject of the fifth edition of their Evening Talks, delivered on November 13, 2019, was IT Girls (a great combination!) and one of C4T's own developers, Ellen Peeters, was invited to be a speaker at this event.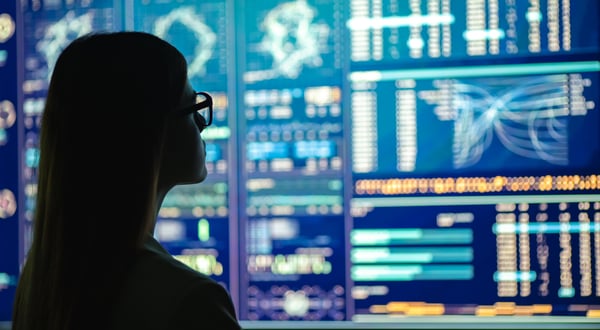 Six alumni presented six very different yet fascinating stories about their carrier paths in IT, the choices they made, the hurdles they came across along the way, and the challenges they see in the IT sector. The lineup included:
Sarah Gerinckx (Customer Success Manager at Credon)
Lotte De Cock (Analyst / Developer at Akkoo)
Ellen Peeters (Junior Developer at Customs4trade)
Elise Van Nylen (.NET Developer at Remmicom)
Kaat Maes (Infrastructure Specialist at 3-it)
Michelle Kempen (System Engineer at Accel)
These six women all graduated with degrees in Applied Informatics and their broad range of careers were an effective way to communicate the many options available to students after graduation.
Ellen shared with the student audience that her journey was not yet clear during the last year of her studies. She was still unsure what kind of company she wanted to work for. After an internship in Russia where she built an app to teach the concept of a grocery store to people with disabilities in a game-like situation, she joined Capgemini as a Junior Software Engineer. There she worked as a consultant to several large Capgemini customers. Although the experience was valuable, she learned that she would rather work for one company as a fully dedicated employee. She wanted to explore the option of working for a smaller company with fewer rigid rules; where she could participate in decision-making processes, learn while doing, and take independent initiative.
In June 2019, Ellen joined C4T as a Junior Fullstack Developer, a position that gave her the opportunity to do both frontend and backend work. In six short months she has already learned a lot in the area of frontend and NoSql databases and loves that roles at C4T are divided among a small development team, allowing her to take responsibility for certain parts of the business, make a distinctive contribution, and really feel valued.
In the near future, Ellen wants to earn her certification in Microsoft Azure so she can set up applications on the portal. She is also passionate about learning more about Cosmos Db. Ellen's experience is an excellent example of the versatility that a degree in Applied Informatics from Thomas More offers and can serve as an inspiration to students, whether they are looking to join a large corporation or a small company.
Want to know more about C4T? Take a look at our vacancies.