As more and more customs managers find out there is a way to automate the complex customs and trade management process, new customers are rapidly onboarding with C4T—which means we need to grow our team to support them! In June, we welcomed eight new employees to our tribe. That means in seven short months we grew from 27 to 40. In our headquarters in Mechelen, Belgium as well as in Minsk, Belarus we have assembled a diverse group of professionals who are eager to show companies that there is a better way to manage their customs compliance.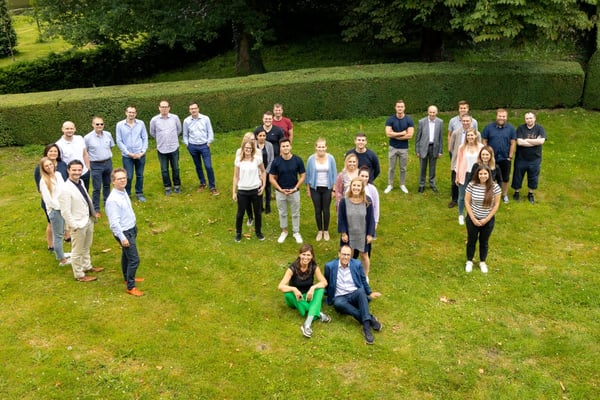 As our COO Ilse Vermeersch put it, "Software is what we do, but the most important thing is the people because that's really what it is all about. It is crucial to find people that are a fit with our organizational culture." But being a fit with C4T doesn't mean that we have a narrow focus of who we're looking for. In fact, quite the opposite. We thrive because of our diversity. Our team includes 11 different nationalities speaking 10 different languages—which is important because customs is an international affair. Our youngest employee is 21 and our oldest is 68, with an average age of 35. Our ratio of men to women is 6:4, and our ratio of male to female developers matches that, which is extraordinary! Our personalities span 14 of the 16 different type indicators on the Myers-Briggs test—ideal for collecting diverse perspectives that advance innovation and accomplish our vision: To come up with solutions that provide added value for the challenges with which our customers are confronted in the complicated and rapidly changing world of customs, excise, and international trade.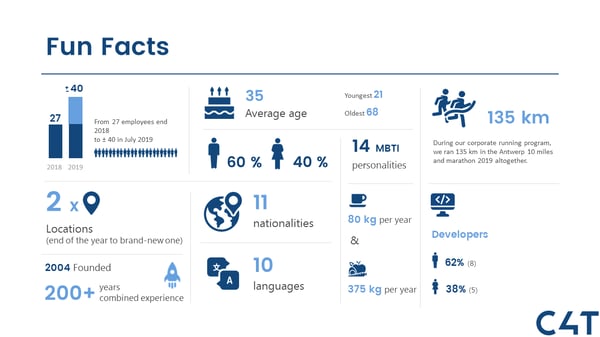 Although, yes, we admit it, at the office we are fueled by 80 kg of coffee a year and 80% of us are chocolate addicts, we balance our guilty pleasures be promoting a culture of health. Our employees make healthy group lunches in our onsite kitchen, we have homemade soup delivered every Wednesday, and fresh fruit is always available for snacking. We go through 375 kg of fruit annually, which we figure makes up for our coffee habit.
We also sponsor a corporate running program with personal coaching from a licensed physical therapist and team-building group runs. This April, our team collectively conquered 135 km at the AG Antwerp 10 Miles & Marathon. It was great to have a unified presence among the 10,000 event participants. With our newest additions and more to come, we are excited to see how our C4T sea of blue expands at next year's race!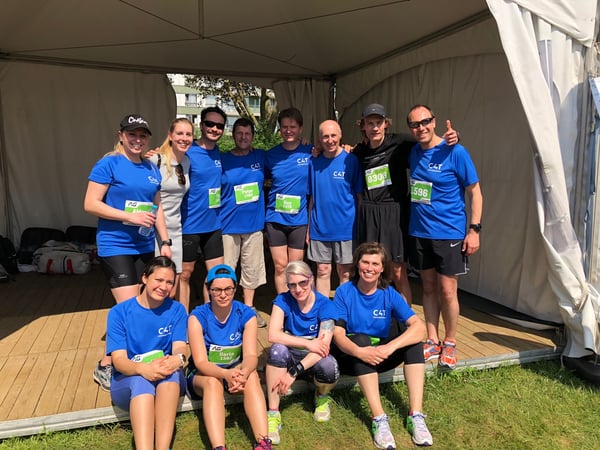 We work hard at C4T, but we truly believe that a workplace that plays together stays together, and it has helped us attract top-notch employees who build their careers at our company. As we continue to grow, opportunity abounds. Welcome to our new hires!