At Customs4trade (C4T), we take pride in being a lean and green machine, with paperless offices, second-hand office furnishings, a ban on single-use water bottles, and a mobility policy that compensates C4Ters who opt for alternative fuel vehicles (AFVs)—or make the choice to go car-free altogether by investing their mobility budget in hybrid commuter bikes or public transportation passes. Step by step, we are reducing our carbon footprint, with our most recent go-green endeavor swapping out combustion-engine cars in our fleet for hybrids.
How we're reducing carbon emissions
As technology evolves for hybrid and electric cars, governmental regulations offer more opportunities for rebates, and the EU continues to build the recharge station infrastructure, AFVs become a more and more attractive choice. Our aim is to continue to increase our ratio of AFVs to CO2 emission cars (we're proud to say we've already passed the halfway mark!). We shared this goal with our fleet provider, Juma Mechelen, and they dropped off a hybrid MINI for our tribe to take for a spin. The feedback was overwhelmingly positive: many C4Ters who were previously driving combustion-engine cars placed orders for hybrid cars, which are on their way! Not only is their sustainable choice a benefit for the environment, these green employees will also be seeing larger paychecks each month thanks to our mobility policy.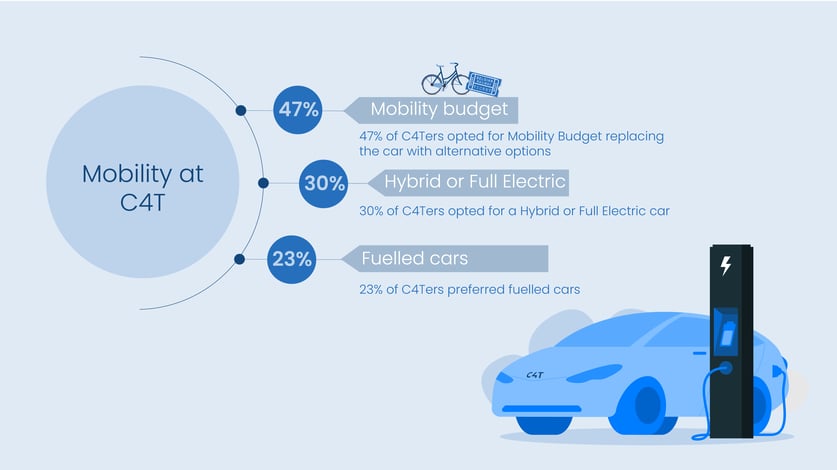 We want to acknowledge Juma for helping us make yet another step toward green work. We chose Juma for their great service, favorable service level agreements for maintenance and repairs, close proximity to our offices, and friendly personnel. They have worked together with us to provide our employees with BMWs: a brand that equals quality, one of C4T's values. And thanks to their partnership and BMW's continued innovation in the AFV market, we continue our journey to a greener future. #leanandgreenmachine #weareinthistogether